Bananas in Pyjamas
B1 and B2 take children on new and exciting adventures in the animated children's television show by ABC Kids. Together they play games and tricks with the teddies, Amy, Lulu and Morgan and have lots of mischievous fun in their antics with friends, Rat in a Hat, Charlie, Topsy, Bernard, Pedro, Dolly and Camembert. 'Are you thinking what I'm thinking, B1?' 'I think I am, B2.' 'It's toy time!' Explore the magical world of Cuddlestown, with soft toys, musical dolls, games and merchandise available at Funstra. Pyjama'rific!
A Guide to Bananas in Pyjamas
The Australian television series that has entertained children since 1992, when the classic characters premiered on ABC. The original series has evolved from filming a performance with human actors and elaborate costumes, into an animated series with new songs, stories and characters, with 8 series and over 450 episodes of jamarama adventures, along with a plethora of toys, books for children to read, CD's to sing along with, DVD's to watch and other banana-rific merchandise. B1 and B2 are the stars of the show and are twin bananas that are yellow and wear blue-and-white striped pyjamas, and enjoy fun and laughter in Cuddlestown with the three teddy bears Amy, Lulu and Morgan, along with the mischievous Rat in a Hat, the wise old dog Bernard, Topsy the excitable kangaroo and Charlie the inventive monkey.
B1
B2
Morgan
Amy
Lulu
Rat
Charlie
Bernard
Topsy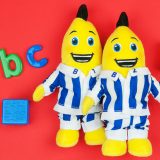 Identical twins, B1 and B2, first hit screens in 1992. The pair have entertained children with their adventures in Cuddlestown with the teddies, Amy, Lulu and Morgan and Rat in the Hat. The duo have since been syndicated across the globe in different languages, transformed into a live show and… READ MORE
Enjoy fun photos and images of B1 and B2 toys and the teddies, Morgan, Lulu, and Amy in our Bananas photo gallery, as they embark on adventures together, as they explore the world and we celebrate in pictures this iconic brand that has entertained pre-school children for over twenty-five years…. READ MORE