B1 and B2 take children on new and exciting adventures in the animated children's television show by ABC Kids. Together they play games and tricks with the teddies, Amy, Lulu and Morgan and have lots of mischievous fun in their antics with friends, Rat in a Hat, Charlie, Topsy, Bernard, Pedro, Dolly and Camembert. 'Are you thinking what I'm thinking, B1?' 'I think I am, B2.' 'It's toy time!' Explore the magical world of Cuddlestown, with talking and musical dolls to encourage learning and development, assorted soft toys to cuddle, games to play and merchandise available at Funstra. Pyjama'rific!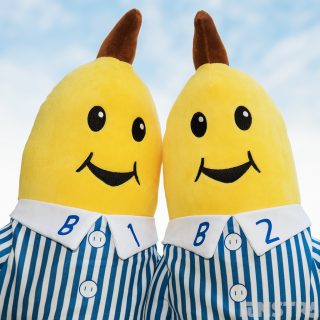 Always smiling B1 and B2 large plush dolls are available in talking plush and as a singing doll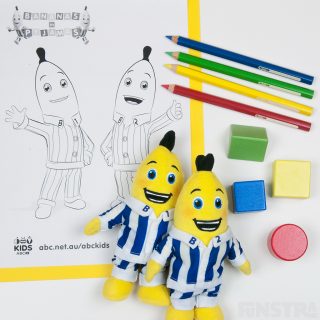 Colouring page from ABC Kids, coloured pencils, building blocks and plush beanies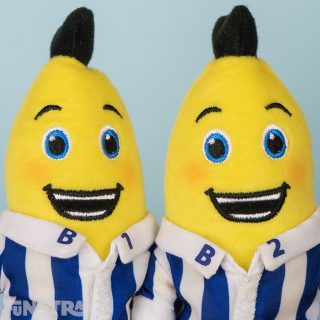 Happy B1 and B2 stuffed toys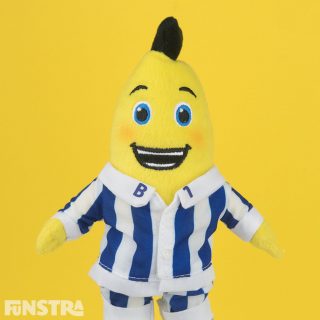 B1 Beanie Plushy Toy ready for play time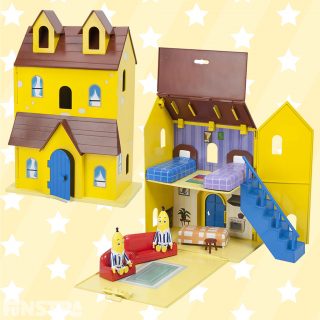 Fun House Playset with B1 and B2 plastic figurines and dollhouse. Walk B1 or B2 action figures down the stairs and the Bananas in Pyjamas theme song tune will magically start to play.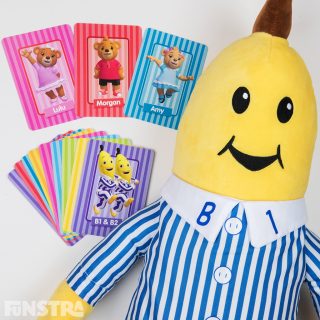 Card games with vibrantly designed playing cards of B1, B2 and the teddy bears Lulu, Morgan and Amy are fun educational toys for children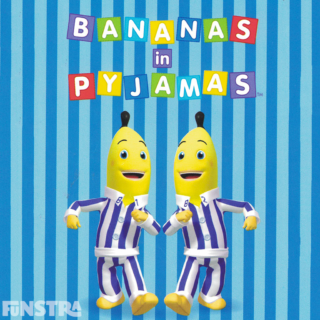 'Bananas in pyjamas are coming down the stairs, Bananas in pyjamas are coming down in pairs, Bananas in pyjamas are chasing teddy bears, Cause on Tuesdays they all try to catch them unawares.' Catchy lyrics from theme song of the original television series intro.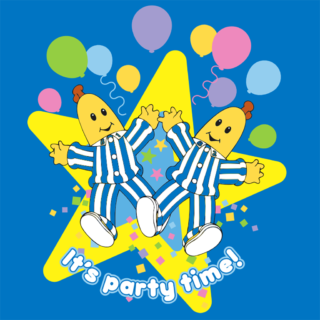 Happy Birthday from the Bananas in Pyjamas! Download your birthday card, party decorations and craft activities from the official ABC for Kids website.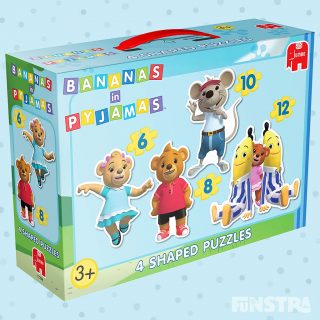 Four shaped jigsaw puzzles of B1, B2, Rat in a Hat and the teddies, Ammy, Morgan and Lulu are a fun game for little bananas fans. A Bananas in Pyjamas puzzle can help cognitive development and improve problem solving skills.
Inspired by the Bananas in Pyjamas song on Play School in 1967, the classic characters premiered on ABC in 1992 and the Australian television series has become one of the most-loved children's shows, entertaining children ever since. The original series has evolved from filming a performance with human actors and elaborate costumes, into an animated series with new songs, stories and characters, with 8 series and over 450 episodes of jamarama adventures, along with a plethora of toys, books for children to read, CD's to sing along with, DVD's to watch and other nostalgic banana-rific merchandise.
B1 and B2 are the stars of the show and are twin bananas that are yellow and wear blue-and-white striped pyjamas that live in Cuddlestown and enjoy fun and laughter with the three teddy bears Amy, Lulu and Morgan, along with the mischievous Rat in a Hat, the wise old dog Bernard, Topsy the excitable kangaroo and Charlie the inventive monkey.
Meet the Characters

B1

B2

Morgan

Amy

Lulu

Rat

Charlie

Bernard

Topsy
Toys & Merchandise
B1 and B2's world offers an extensive selection of merchandise inspired by the fun-loving pair of bananas. Stuffed toys come in various sizes with small plush beanies that make a cuddly companion for children to take everywhere to large plush toys that make a special friend to snuggle for comfort. Talking plush toys that say common phrases that the bananas love to say from the show when you squeeze their tummy, not only make a huggable friend for kids, but are a toy that offers educational benefits to develop vocabulary, comprehension and memory skills.
Playsets and figures of the banana's fun house in Cuddlestown and accompanying B1 and B2 figurines are toys to inspire young minds and imagination for pretend play, while the figurines of B1 and B2 and their friends can make for creative alternative uses as cake toppers to decorate a cake for children's birthday parties or even party favours.
More on Bananas in Pyjamas