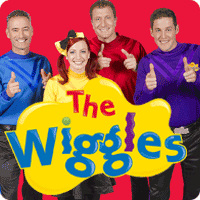 Come on down to Wiggle Town! Emma, Simon, Lachlan and Anthony are the Wiggles, the popular music group from Australia, entertaining young children around the world with catchy lyrics and dance moves. Together with Dorothy the Dinosaur, Captain Feathersword, Henry the Octopus and Wags the Dog, they sing, dance, play games, learn and have lots of Wiggly fun in their television series on ABC Kids, songs and shows touring the world. Explore the singing and dancing Wiggly world of official licensed Wiggles products with games to play, costumes to dress up and role-play and fun selection of toys with musical instruments to sing and dance along with, dolls and stuffed toys to cuddle and figures for pretend play and party supplies to celebrate with the Wiggles at Funstra.
The Wiggles are an Australian children's music group that have entertained children around the world with their funky dance moves, catchy songs and toys. It all started with the original band members - Greg Page, Anthony Field, Murray Cook and Jeff Fatt. Now the newest members of the band are still identified by their colourful skivvies, with Emma Watkins in yellow, Simon Pryce in red, Lachlan Gillespie in purple and Anthony Field in blue.
The award winning children's entertainment group has received many awards for their CDs, DVDs, music albums with ABC Music and live concerts and tours around the globe, with hits "Hot Potato", "Wake Up Jeff", "Can You (Point Your Finger and Do the Twist)" and "Toot Toot, Chugga Chugga, Big Red Car", are just a few of their musical accomplishments.
Meet the Characters

Emma

Anthony

Simon

Lachy

Wags the Dog

Dorothy the Dinosaur

Henry the Octopus

Captain Featherwsword
Toys to Wiggle and Learn
Ready, Steady, Wiggle! Emma, Lachy, Simon and Anthony, along with supporting characters Dorothy the Dinosaur, Henry the Octopus, Wags the Dog and Captain Feathersword have been educating children with their musical instruments and performances, using the art of song, stories and play in their numerous television series, music records and shows that have inspired a fun selection of toys, books, puzzles, games and activities for child play.
Singing, dancing and playing toy instruments stimulates your child's creativity and imagination. Through interactive toys, such as musical toys and instruments like the guitar, keyboard and drum set, children can develop physical, mental and fine motor skills. The catchy and repetitive lyrics and melodies from the Wiggles assist in developing your child's language skills, pronunciation, memory and allow children to connect music with emotions. Listening to Wiggles songs, and singing, dancing, playing with instruments and toys provide great learning opportunities for children that is both fun and educational.