Pooh Bear is the most famous teddy bear and the timeless stories of Pooh and his friends have captured the imaginations of young and old since 1924. We have shared the many adventures of the remarkable Pooh Bear, Tigger, Rabbit, Eeyore, Piglet, Owl, Kanga, Roo and Christopher Robin from the Hundred Acre Wood in A. A. Milne's children's story books, and Disney's television shows and movies, with 'The Tigger Movie', 'Piglet's Big Movie' and 'Pooh's Heffalump Movie'. Explore the enchanting world of plush toys, dolls, soft toys and stuffed animals from the Hundred Acre Wood.
A day without a friend is like a pot without a single drop of honey left inside.' Cuddle Pooh bear plushy.
But the most wonderful thing about tiggers is. I'm the only one.' Tiggers are cuddly fellas. Cuddle Tigger stuffed animal.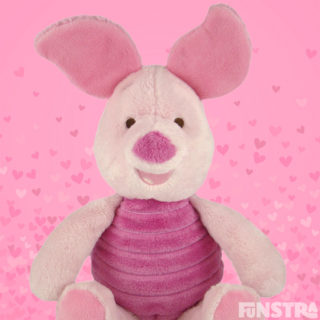 Sometimes the smallest things take the most room in your heart.' Cuddle Piglet soft plush toy.
It never hurts to keep looking for sunshine.' Cuddle everyone's favorite donkey, Eeyore plushy.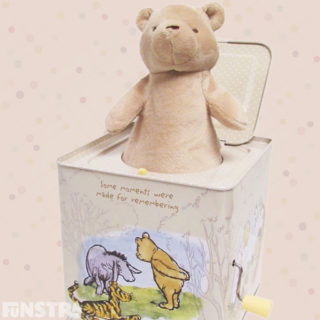 'Some moments were made for remembering.' A classic Winnie the Pooh jack-in-the-box toy featuring Pooh bear, Eeyore and Tigger.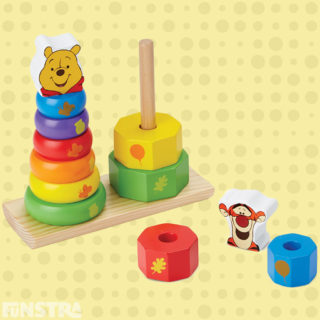 Develop fine motor skills, color recognition, matching and sorting skills with rainbow wooden stacking rings puzzle featuring Pooh and Tigger building blocks from Melissa & Doug educational toys.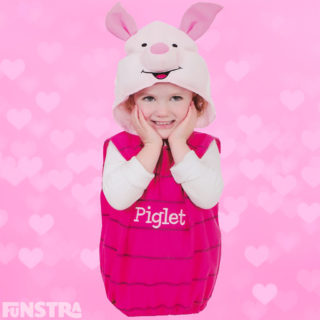 Dress up as Piglet and join Pooh, Tigger and Eeyore on their adventures in the Hundred Acre Wood. Sweet costume for children, complete with striped jumper and cute pink ears attached to the headpiece.
A play tent with a bright and colorful design of Tigger, Pooh, Piglet and Eeyore makes a fabulous playhouse or hideaway for playing games and creative play.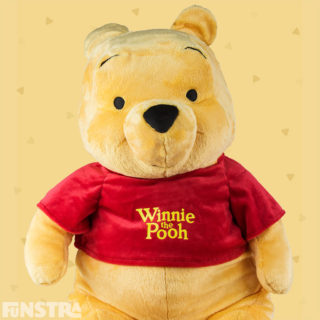 Cuddle a giant plush toy of everyone's favorite bear from the Hundred Acre Wood and much loved friend Eeyore, Tigger, Rabbit, Piglet, Owl, Kanga and Roo.
Winnie the Pooh, Tigger, Eeyore and Piglet hand puppets will not only entertain children, but stimulate the imagination and encourage creativity, develop communication skills, motor skills and boost confidence.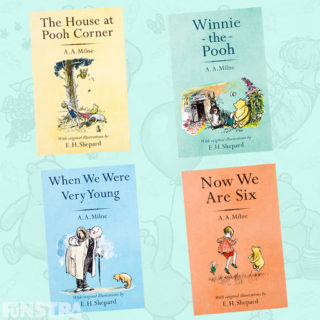 Winnie the Pooh, The House at Pooh Corner, When We Were Very Young and Now We Are Six are classic story books written by A. A. Milne filled with stories and poetry that children can read and fall in love with the adventures of Pooh and friends in the Hundred Acre Wood.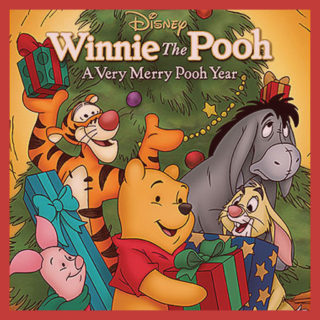 Give the gift of Winnie the Pooh this Christmas and have a very merry pooh year with Tigger, Eeyore, Piglet, Rabbit and Pooh bear.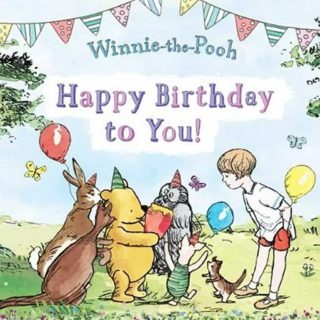 Winnie the Pooh, Rabbit, Kanga, Owl, Roo and Christopher Robin wish happy birthday to you! Surprise your little one and give the gift of Disney's Winnie the Pooh.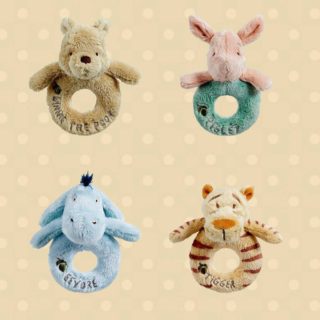 Baby soft plush face of Winnie the Pooh bear, Piglet, Eeyore donkey and Tigger on a classic plush ring with jingle rattle.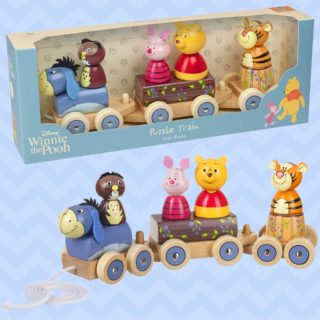 Kids will adore playing with this wooden toy train, featuring Eeyore, Owl, Piglet, Pooh and Tigger. The Winnie the Pooh Puzzle Train is a beautifully crafted wooden toy with three carriages and character figures.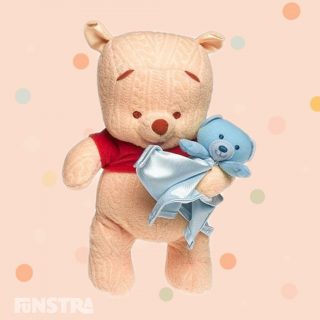 ♫ Winnie the Pooh, Winnie the Pooh, chubby little cubby all stuffed with fluff, he's Winnie the Pooh, Winnie the Pooh, willy nilly silly old bear. ♫ My First Winnie the Pooh plush soft toy by Fisher Price is a perfect gift for newborn baby.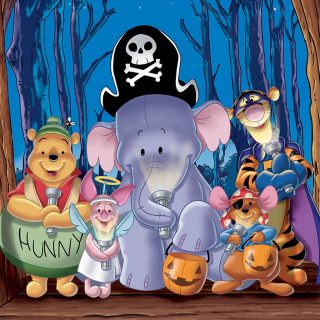 Pooh's Heffalump Halloween Movie is a sweet treat for the whole family, features Winnie the Pooh, Piglet, Tigger, Lumpy and Roo.
Collect the Pooh bear from the Tsum Tsum mini plush Winnie the Pooh collection by Disney.