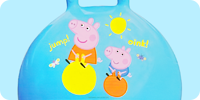 Jump, bounce and hop around with
Peppa Pig
, the cheeky yet lovable
Minions
, the
PAW Patrol
pups and all your favorite characters on our kids' space hoppers. Whether you call this bouncer toy a hop ball, space hopper, sit and bounce, hippity hop or hoppity hop, this big inflatable rubber ball with handles offers lots of bouncing fun that keeps children active, healthy and happy.
The space hopper is a big heavy duty inflatable rubber balloon, similar to an exercise ball, but with two handles. Children can sit on the hop ball, holding onto the two handles, and bounce up and down and all around by leaning forward and from side to side, to bounce and move the space hopper around.
The space hopper is a simple rubber toy that was invented by Aquilino Cosani of Ledragomma in Italy in 1968 and has been a popular toy ever since that helps children develop a good sense of balance, dexterity and coordination and encourage physical activity as they learn and grow.